Ultrasonic Flow Meters From Systec Controls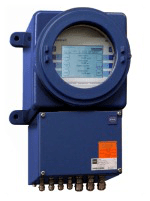 Ultrasonic flow meters use a method of measurement that measures the velocity of a fluid with ultrasonic sound waves to calculate the fluid flow. Using a pair of ultrasonic transducers, the flow meter measures the average velocity along the ultrasonic path, by averaging the difference in the transit time (time of flight) between the emitted and recieved pulses propagating into and against the direction of the flow.
This time difference is a measure of the average fluid velocity along the path of the ultrasonic beam. By using the transit times both the averaged fluid velocity and the speed of sound can be calculated. Using the two transit times (in the up stream and downstream directions), the axial distance between transmitter and reciever and the inclination angle, the formula can be constructed to calculate the average fluid velocity and speed of sound.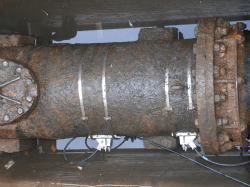 The meters can be used in very challenging applications, on pure fluids and with solids and air entrainment. There are some limitations in fluids that are more heavily multiphase, demonstrations and testing is easily available by prior arrangement to ensure suitability.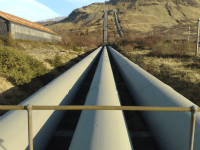 Penstock / pipeline leak detection systems are available for applications where pipe integrity and monitoring are critical to the operation of the plant and security of company assets.
If you require further information on this product or would like a quotation, please contact dp-flow on: