Series CDVS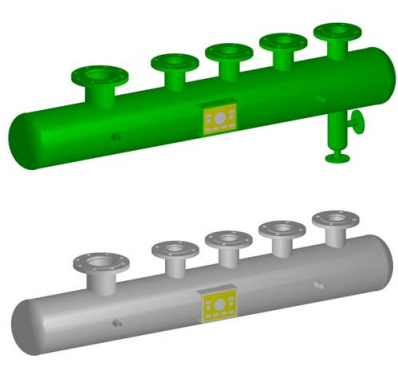 Description
The CDVS Series distribution manifolds are used in thermal power stations for the distribution of fluids and vapors to the lines of use and for the connection of the lines coming from the return pumps.
They are designed with calculation code EN 13445 Part III and PED compliant 2014/68/UE with different design pressures.
They are built with the following materials:
RAL 6010 painted carbon steel
AISI 304 stainless steel
AISI 316 stainless steel
EN 1092-1 form "A" or ANSI B16.5 150 RF - 300 RF can be flanged with Rp ISO 7 (G.F.) or NPT service sleeves. The CDV steam version is designed with the condensate collection well, while the CDS fluid versions are designed without a well. Threaded and flanged connections according to design pressure Lengths and positioning of configurable connections.
If you require further information on this product or would like a quotation, please contact dp-flow on: