Metron2
Telemetry that makes sense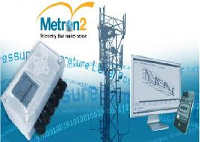 Wire-free telemetry solutions for use across the globe for remote monitoring and control.
Telemetry is the remote measurement and collection of data, such as meter reading, tank level monitoring or environmental monitoring.
Telemetry is typically used to gather data from distant, inaccessible locations, or when manual data collection would be difficult, dangerous or costly.
Powelectrics specialise in the design, supply, installation, commissioning and support of GSM telemetry and radio telemetry systems.
Applications
Remote tank level monitoring
Remote meter reading
Water network monitoring (flow & pressure)
Environmental monitoring (flow, pH, turbidity)
Security
M2M—alerts from machines
Irrigation and abstraction monitoring and control
Bringing the world closer with Metron2
Affordable and Flexible
The Metron2 enables you to quickly and easily address a range of remote monitoring and alarming applications using the same low cost hardware.
Four Configurable Inputs
The 4 inputs can work with a range of sensors, meters and other signals giving a high degree of flexibility.
Integral Display
The integral back lit display means the device can be used to show the readings locally, as well providing an easy way for the user to easily configure and interrogate the unit.
Self Powered
The Metron2 can operate from it's own internal battery, even providing power to the sensors, or you can connect an external power source such as a solar cell.
Low Cost Operation
The quad-band GSM modem gives global operation and low cost GPRS data transfer.
Low Installation Costs
It's quick and easy to install and there's no need for qualified electricians.
Data Logging
The unit can store 1,500 readings each with a time and date stamp.
Expandable
The unit has an in-built expansion port - Different options are available including a 5 channel pulse/digital board.
Summary of Technical Features
Ability to interface with up to four analogue (0-10V or 4-20mA), or digital (ON/OFF) signals.
Optional plug in board with 5 pulse or digital inputs (max frequency 20Hz)
2 digital outputs rated a 2A @ 30 Vdc - optional extra
On board excitation for sensors, 3.6 volts (non-regulated), 5v, or 21.6 volts (max 31.25mA).
Internal non rechargeable battery powered or external 6 to 24 Vdc power source. Please specify when ordering.
Back lit LCD Display, 40 x 40mm, 128 x 128 pixels, to help with on-site setup & diagnosis. Can be used as a local display to show measured values.
Quad-band GSM/GPRS modem fully type approved conforming with the R&TTE directive. GE, GCF, FCC, PTCRB, IC and ANATEL approved. Communications by text message & GPRS, using a range of protocols. Unit transmits periodically and/or upon alarm. Unit can be configured so you can poll for live data. Configuration will affect battery life.
USB port for programming
& firmware upgrade
Programmable locally or remotely
Over the air firmware upgrade capabilities
Weatherproof enclosure dimensions are 138 / 75 (plus glands) x 65.5mm
Expansion board socket for future use
Multiple alarm thresholds per channel
Real time clock and data logging (1,500 records)
Download Datasheet (Not Available) Download Manual (Not Available)
If you require further information on this product or would like a quotation, please contact dp-flow on: