Contrec
415C

Flow Computer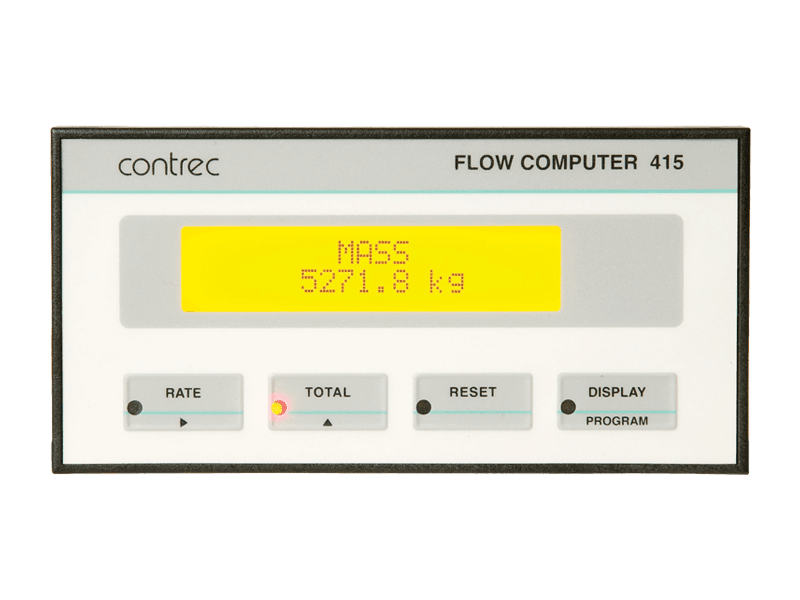 Features
Calculates Net Energy used in the system
Displays mass flow, steam energy and condensate energy
Accepts 4-20mA and frequency flow inputs
Temperature and pressure compensation
Operates from 14-28V dc or ac mains
Simplified programming
Data logging output
Analogue and Frequency Input Steam to Condensate Computer (Optional EXD)
The Contrec 415C Panel Mount Mounting Rate Totaliser
In steam heating applications, where the condensate is returned without loss to the boiler, the Model 415C Steam to Condensate computer provides a convenient method to measure the Net Energy used in the system.
A flowmeter in the steam line together with temperature and pressure sensors is used to calculate the mass flow and energy of the steam.
Providing the return line contains only condensate and is free of steam, it is possible to measure the return energy only by measuring the temperature of the condensate. In addition to displaying both the feed energy and return energy, the Net Energy used in the load is calculated and displayed.
The Model 415C relies on the system being loss free in which case the mass of steam in the feed line with equal the mass of condensate in the return line.
For applications where the steam is saturated, the system allows the use of either a temperature or pressure sensor, rather than requiring both sensors. Steam and condensate energy are calculated used the 1967 IFC Formulation (ASME) equations to determine the specific weight and enthalpies.
WIDE RANGE OF FLOWMETER INPUTS
Inputs from a wide range of flowmeters are accepted, including vortex, turbine, orifice plate, averaging pitot tubes, wedges and target flowmeters.
A scaled output, suitable for a driving remote totalisers is a standard feature, while options include an isolated 4-20mA re-transmission, high and low flow alarms and RS232/422 output.
The pulse output, 4-20mA re-transmission and alarms will operate on the net energy.
RS232/422 OUTPUT ENABLES DATALOGGER OPERATION
The RS232/422 option will output all parameters displayed and has the unique ability to print flow rates and totals as programmable time intervals.
This enables the 415C to function as a datalogger when used in conjunction with a printer or other storage device. Protocols are provided for standard roll and column printers as well as for computer interfaces. A real time clock provides date and time. The totals can be programmed to reset via the front panel, after each print or at 24:00 hours.
EASY TO READ BACKLIT ALPHANUMERIC DISPLAY
The Model 415C is fully programmable and all operating parameters are entered via the front panel keypad. The backlit alphanumeric display simplifies programming and provides a clear indication of all parameters, as well as engineering units.
FLOWMETER INPUTS
The 415C accepts most flowmeter inputs including:
Frequency producing flowmeters such as vortex, turbine, or positive displacementVolumetric flowmeters with 4-20mA outputs such as vortex or turbines with a frequency to current converter on the output Differential Pressure devices such as orifice plates, averaging pitot tubes, wedges, cones, elbows or target flowmeters, where a square law relationship appliesLinear Differential Pressure devices where the 4-20mA output is directly proportional to the flow rate Non-Linear Differential Pressure devices such as laminar flow tubes or VA meters. A 20 point correction curve can be programmed to compensate for any non-linearities in the flowmeter
Download Datasheet (Not Available) Download Manual (Not Available)
If you require further information on this product or would like a quotation, please contact dp-flow on: