Differential Pressure Transducers and Transmitters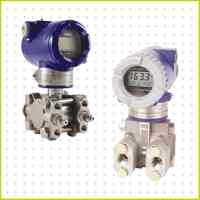 Since 1948, when the first d/p cell transmitter was invented, our differential pressure transducers and transmitters have been the industry standard.
Today our IDP series intelligent two-wire transmitters are still leading the industry with a complete offering of measurement ranges, static pressure ratings, materials, analog and digital communications and premium performance.
Our traditional and low-profile structures offer superior performance and long-term stability from microprocessor-based technology.
Key Benefits
Application versatility
Rugged dependability
Superior performance
Choice of electronic modules
LCD indicator / pushbutton configurator
SIL2 TÜV Rheinland Certified per IEC 6150
Transmitter Range
Differential pressure transmitters:-IDP10; IDP15; IDP25; IDP31; IDP50
Absolute Pressure; Gauge Pressure transmitters, Temperature sensors and mass flow computers.
MultiVariable Transmitters :- IMV25, IMV30
If you require further information on this product or would like a quotation, please contact dp-flow on: