MODBUS WirelessHART Gateway
WHA-GW-F2D2-0-A*-Z2-ETH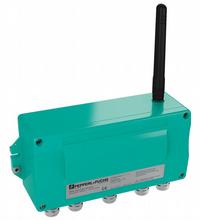 Used for data aquisition of new and historic HART instruments, enabling stranded smart instruments to provide greater monitoring capability.
The gateway is a low cost option to replacing and rewiring existing instrumentation and plant. When used with wireless HART adapters the network will create a self healing HART wireless mesh.
High cost savings compared with instrument replacements, and provides the HART 1-4 variables for plant condition alarms, maintanence alarms and forward planning.
Model
MODBUS WirelessHART Gateway WHA-GW-F2D2-0-A*-Z2-ETH>
Graphical network analysis
Simple and automatic configuration options
Ethernet and RS 485 interface
HART and MODBUS protocol via both interfaces
Input WirelessHART wireless interface
24 V DC supply
Redundant power supply connections
Technical data of WHA-GW-F2D2-0-A*-Z2-ETH
Supply
Rated voltage 20 ... 30 V DC SELV/PELV
Power consumption < 5 W
External bus
Connection screw terminals for :- 0.2 ... 4 mm2 (rigid wire), - 0.2 ... 2.5 mm2 (flexible wire)
Interface 1 Ethernet 10 BASE-T/100 BASE-TX , full galvanic isolation
Protocol HART UDP, MODBUS TCP
Interface 2 RS-485
Protocol HART, MODBUS RTU
Transfer rate max. 115 kBit/s
Electrical isolation
Interface/interface basic insulation according to IEC 61140, rated insulation voltage 50 Veff
Directive conformity
Electromagnetic compatibility
Directive 2004/108/EC EN 61326-1:2006
Radio and telecommunication terminal equipment The usage of 2.4 GHz equipment is bound to local restrictions. Ensure that restrictions allow usage of this product before commisioning.
Directive 99/5/EC EN 300328: V1.7.1, EN 301489-17: V1.3.2
FCC CFR47 Part 15 B and C ANSI C63.4-2003
Conformity
Degree of protection IEC 60529
Ambient conditions
Ambient temperature -20 ... 60 °C (-4 ... 140 °F)
Storage temperature -40 ... 85 °C (-40 ... 185 °F)
Corrosion resistance acc. to ISA-S71.04-1985, severity level G3, test setup and execution acc. to EN 60068-2-60
Mechanical specifications
Degree of protection IP66/IP67
Mass approx. 1 kg
Dimensions 258 mm x 114 mm x 84 mm, without antenna and cable glands
Mounting panel mounting
Data for application in connection with Ex-areas
EC-Type Examination Certificate FM 12 ATEX 0061 , for additional certificates see www.pepperl-fuchs.com
Group, category, type of protection, temperature class Ex-Hexagon II 3 G Ex nA nC IIC T4 Gc
Directive conformity
Directive 94/9/EC EN 60079-0:2012
EN 60079-15:2010
Download Datasheet (Not Available) Download Manual (Not Available)
If you require further information on this product or would like a quotation, please contact dp-flow on: