VIATOR® BT (Bluetooth)® Modem 'General Purpose'
010040

for use with HART field devices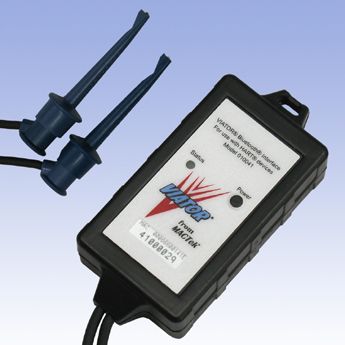 The VIATOR® Bluetooth®HART Modem Interface is a point-to-point modem for temporary connection to HART-enabled field devices for use primarily as a configuration management tool. The VIATOR® Model 010040 Bluetooth® Interface is designed for use in General Purpose locations. The modem can operate approximately 20 hours powered by internal replaceable AAA battery cells. The PC host uses internal Bluetooth interface or a USB / Bluetooth converter to communicate with the Bluetooth modem. The modem physically attaches to the HART field device with wires and mini-grabbers clips.
Default operating mode is to establish Bluetooth connection with Windows Bluetooth serial port profile and go – no GUI required. Faceplate push button manually controls on/of, sleep mode to save battery, and battery check mode. Faceplate LED displays communication heartbeat and battery charge remaining.
Optional VIATORCheck PC software allows you to remotely turn off the modem, check battery charge remaining, put it to sleep to save battery, wake up from sleep when ready to continue use, and to remotely cause the LED to flash rapidly to identify which BT modem is connected to your PC (squawk feature.)
HART ComDTM software allows use of the modem with FTD applications.
HART Registered with HCF = fully HART compliant for communication reliability
100 meters of range (typical, open air)
Adaptive frequency hopping to reduce RF interference
COM port interface (virtual COM port in Windows) using Windows Bluetooth Serial Port Profile (SPP)
HART software compatibility – Works with all HART compliant PC HART applications
Intelligent / adaptive power management
Powered by user replaceable 3x AAA alkaline primary batteries. Battery life approximately 20 hours.
FCC, CE, RoHS compliant
Download Datasheet (Not Available) Download Manual (Not Available)
If you require further information on this product or would like a quotation, please contact dp-flow on: