Intelligent HART Gateway
HG1 Plus
Features
Modbus to Hart gateway
EASILY CONNECT MODBUS CLIENTS
INCLUDING PLC, SCADA AND DCS SYSTEMS
Serial Modbus RTU - RS232, RS422, RS485
Encapsulated Modbus RTU
Modbus TCP/IP over Ethernet
Multiple simultaneous clients
Read and write any transmitter variable
Modbus Bridge
Connect two distant HART networks
Connect using LAN or WAN
Hart to Hart Bridge
JOIN TWO DISTANT HART NETWORKS
TOGETHER AS ONE USING LAN OR WAN
HART Interface
Primary or secondary master
Multi-dropped transmitters
All mandatory and common practice commands
Support for device specific commands
Automatic polling of device data and configuration
Hart Modem
USE STANDARD TOOLS SUCH AS PACTWARE
OR FIELDCARE
Serial RS232, RS422, RS485
Ethernet (Virtual serial port)
Pactware, Feildcare, RadarMaster, Simatic
PDM, SmartVision and more
Remote Asset Management
CONTROL AND MANAGE YOUR
FIELD ASSETS REMOTELY Remote Access
Remote Modbus
Remote Modem
Remote Configuration and updates
Connect over LAN or WAN , Internet
Product Description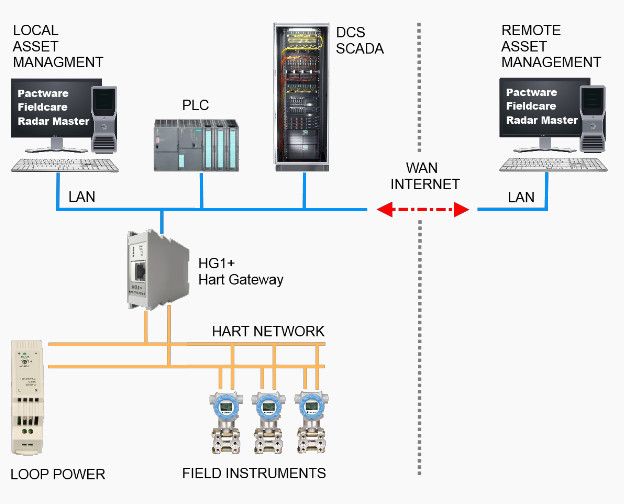 The HG1plus is an advanced HART communications module designed for industrial and factory automation applications. This versatile device provides HART to Modbus protocol conversion, HART to HART network bridging, HART Modem interfaces and allows remote access to field devices over local and wide area networks in support of effective asset management. The stand-alone DIN rail mounted HG1+ is rugged, compact and low power, making it an ideal solution for applications wanting to exploit the many advantages of Smart field instrumentation.
Modbus Gateway
The HG1 provides an interface between instruments on a HART network and Modbus clients such as SCADA, DCS and PLC systems. The HG1 automatically communicates with the HART devices and maintains an internal database of their configuration and process data. This data can be read or written using a choice of Modbus interfaces including RS232, RS422, RS485 and Ethernet. The HART to Modbus gateway allows host systems with no native HART capability to access the wide range of data available from HART capable devices. Multiple Modbus connections are supported simultaneously, making it possible to hand off transmitter data to any number of independent systems or consumers. The HG1+ supports HART networks with multiple devices (multi dropped) and may act as either a primary or secondary master device. It implements all mandatory and common practice HART commands and supports device specific communications through the use of installable device templates. Both the encapsulated RTU and Modbus TCP/IP interfaces may be accessed remotely.
HART bridge
A
pair of HG1s may be used to combine two independent HART networks together via a local area network so that they behave as if they were a single unified network. Such a situation may occur when two groups of transmitters are located too far apart to extend a single HART loop to cover all devices. Once bridged using the HG1s the combined network behaves and performs as if the transmitters were all on a single network.
HART Modem
The HG1 provides a HART modem interface for industry standard device management software such as Pactware and Fieldcare. This interface is available through a direct serial connection - selectable as either RS232, RS422 or two wire RS485 - and via a virtual serial port on PC computers connected to the same Ethernet network as the HG1. The HART Modem interface may be used at the same time as the Modbus gateway functions, allowing both Modbus access for process control and data gathering and simultaneous device management from a maintenance PC. The HG1 automatically and transparently arbitrates HART network bandwidth between the two applications. The HART modem does not require the host application to control the serial ports RTS signal (a requirement with most HART modems) as this is handled automatically by the HG1. As a result the HG1 allows the use of two and four wire electrical standards for the serial port connection.
Remote Access
All the networked features of the HG1, including HART modem access, Modbus communications, configuration and maintenance can be performed remotely over a local area network or over the internet. From a single location you can manage and maintain your field assets where ever in the world they are. Remote access from a central location lends itself to meaningful asset management with improved failure prediction, reduced downtime and significant reduction in costs associated with routine and non scheduled maintenance that would otherwise require an engineer to travel to site.
Additional features
Device Cloud
The HG1 can report its status, and that of any connected field instrument, back to the RAP device cloud. System managers can access this cloud from a PC and get an instant overview of current and historical device performance and health. Email Alerts
For immediate notification of selected events such as transmitter failure or out of limit process values the HG1 can be configured to automatically send user defined emails to named recipients upon such events occurring.
Configuration tools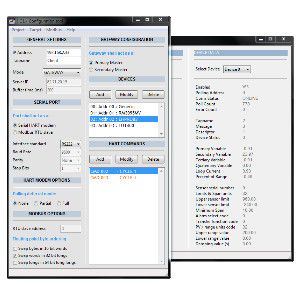 Management of the HG1 is accomplished through a suite of PC based tools for easy setup and configuration. Using these tools the HG1 can be completely configured, Modbus maps generated (as plain text files, or in a form suitable for import into Microsoft Excel) and software updates and device template installed. Utilities are included that allow the user to directly view HART instrument data and to check the integrity of the HART communications loop. Included in the suite are virtual serial port drivers and related software to support remote access to distributed HG1 devices.
Product Support
Customers are entitled to one years complimentary telephone and email support and includes all software updates. Several levels of chargeable support are also available including
On site (commissioning, maintenance or upgrades)
Custom device template design
Device configuration service
System design service
Telephone or email support beyond the first year
Technical Data
Computational

CPU:
32-Bit ARM9 Processor operating at 170MHz
DRAM:
4MB
FLASH:
8MB

H.A.R.T Interfaces

Quantity:
1
Type:
Primary/Secondary Master
Multi-drop support:
Yes

Ethernet Ports

Quantity:
1
Type:
10/100 Base-T RJ-45

Serial Port

Quantity:
1
Type:
Software selectable
RS232
RS422
RS485

Interface Protocols

Types:
Modbus TCI/IP
Modbus RTU
Encapsulated RTU
Raw HART modem

Power

Nominal Voltage:
+24V
Power:
< 2W

Connectors

Ethernet:
RJ45
All other signals:
5.08 pitch screw terminal accepting 4mm2 wire

Mechanical

Type:
Snap-on DIN rail mounting
Rail compatibility:
DIN EN 60715 TH 35
Material:
Flame retardant PA 66
(UL 94 V-0)

Environment

Operating:
-40 to +85oC Ambient
Storage:
-50 to +125oC
Humidity:
5 to 90% non-condensing
Altitude:
12,000 feet

Certification

Europe
CE in accordance with EN ISO 17050-1:2004
USA
Class A device, pursuant to part 15 of FCC regulations
Canada
Compliant with ICES-003
Russia
GOST-R approval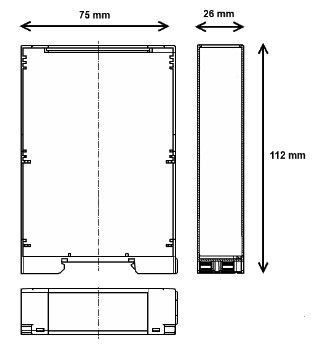 If you require further information on this product or would like a quotation, please contact dp-flow on: