ANALECT® EVM™ Environmental Vapor Monitor system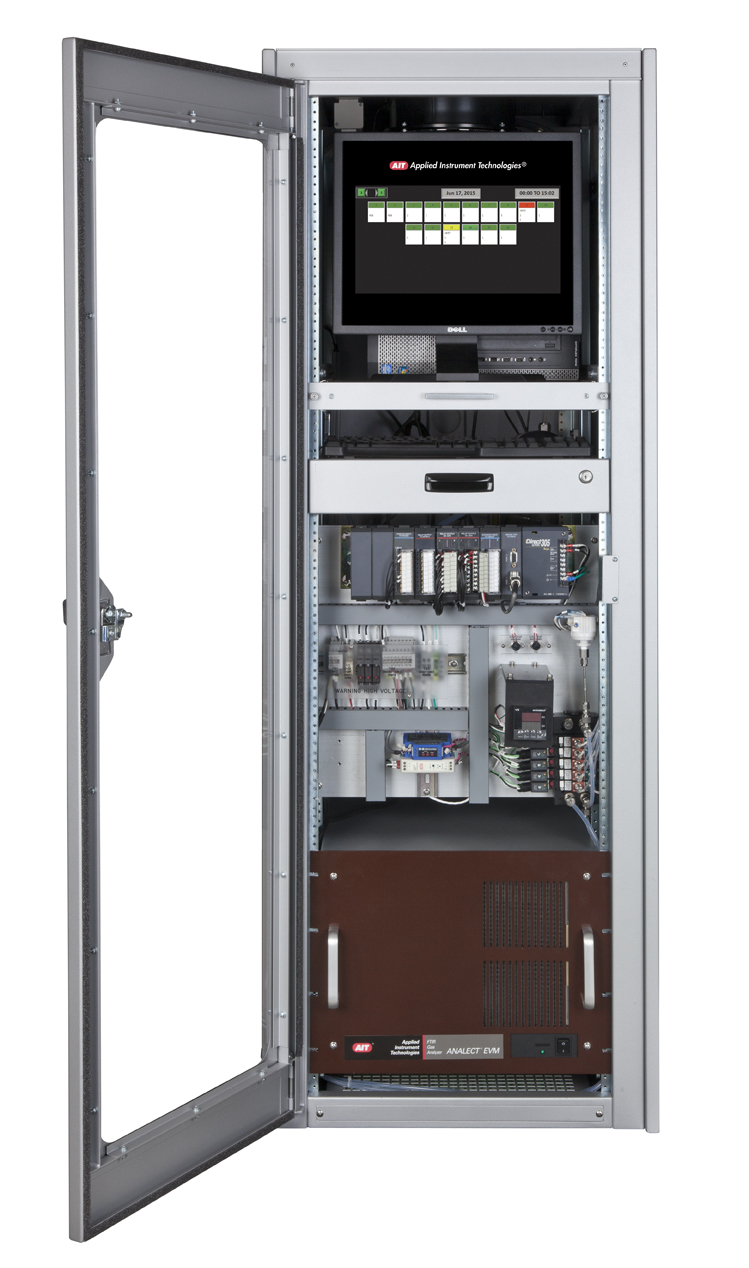 Description
The AIT Schneider Electric ANALECT® EVM™ Environmental Vapor Monitor system provides round-the-clock multi-point continuous air monitoring for a variety of applications.
Proven reliable FTIR technology yields real-time analysis of both organic and inorganic compounds
Measures ambient toxic and pollutant gases with ppb to % level detection
A variety of user configurable alarms for instant warnings of toxic gas levels and system control
Capable of monitoring 28 components with up to 32 sampling points over a distance of 300 meters from the analyzer
Rapid response time – typically 20-200 seconds per stream
Configurable sample point selection control locally or by DCS
SpectraRTS™ operating software engineered exclusively for environmental monitoring – appropriate for development chemists, engineers and maintenance personnel
Upgrade the discontinued Miran™ 981 & 983 air monitor systems with the ANALECT® EVM™
Specifications
Spectrometer: • Interferometer:
Transept IV hermetically-sealed interferometer with refractively scanned design
Spectral range: Extended mid-IR 7,400 to 450 cm-1
Resolution: 1.5 cm-1 (unapodized)
Detector: DTGS pyroelectric (standard) and full line of external Optibus detectors, including DTGS, thermoelectrically controlled DTGS, MCT, liquid nitrogen cooled MCT (12 and 24 hr. dewars)
Sample Cell
10 meter pathlength standard. Other pathlengths optional
Heated cell prevents condensation and stabilizes measurements.
Ambient Environment Conditions
Temperature range: 0-95°F
Relative humidity range (RH): 95% non-condensing
Area Classification
Standard: General purpose
Optional: Hazardous areas
Utility Requirements
Rated voltage: 115/230 Vac ±10%
Rated load: 2 kVA
Rated frequency: 50/60Hz
Nitrogen (N2): Optical purge 3-5 psi, 0.25-1 SCFM
Instrument air or N2: Enclosure vortex cooler 60-100 psi, 5-25 SCFM
Communications
Standard: RS 232/422 Modbus RTU or ASCII
Optional: Discrete analog/digital
Optional: Ethernet OPC
Optional: Data concentration PC Physical Dimensions
Analyzer cabinet size: 75"H x 56"W x 24"D 190cm x 142cm x 61cm
Weight: 800 lb/360 kg
Download Datasheet Analect_EVM_Datasheet.pdf
If you require further information on this product or would like a quotation, please contact dp-flow on: