ACA.HF System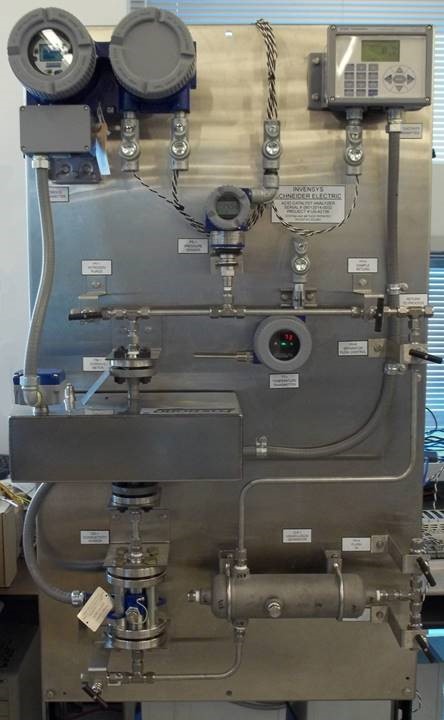 Description
The objective of the installation of theAIT by Scnheider Electric on-line ACA.HF system is to provide real-time information about HF catalyst quality to the control and/or advance control system – reliably and safely. Schneider Electric developed the on-line HF analyzer system primarily to address issues of cost and maintenance associated with other available analytical techniques. By eliminating moving parts and parts that have limited service life, the ACA.HF offers dramatically reduced maintenance requirements and high uptime, ensuring continued benefits from advanced applications such as advanced process control.
The result is a response matrix analogous to that afforded by the established, complex FTNIR analyzer, but with several anticipated benefits:
Higher measurement precision for precise process control
Continuous analysis (4 second measurement interval)
Reduced complexity in sample handling for improved safety and reliability
Extremely low maintenance improved for improved safety and reliability
Dramatically lower expected cost of ownership
Features
An integrated analyzer system for installation in the alkylation unit
Proven measurement technologies with an established history of service in HF applications
Mounting of all components on an open panel to eliminate an enclosure where HF can accumulate
All wetted parts associated with the analyzer system and sample handling are specified in the specific offering but are typically made with Hastelloy-C, Monel, Grafoil, Teflon®, Kynar and Chemraz®
Measurement is performed on sample flowing continuously through tubing and components half-inch, minimizing pressure drops that cause flashing of light hydrocarbons.
Manual valves to isolate the analyzer system and purge with isobutane, alkylate, nitrogen, etc.
Data logging and historizing of KPI's will be done in the host DCS to enable quick and easy diagnostics
This is an HF process which is corrosive.
Benefits
Non-spectroscopic measurement system designed to measure all components in HF alkylation catalyst: HF, water, and acid-soluble oils (ASO)
Direct chemical measurement
An integrated panel-mounted system for installation in the alkylation unit
All wetted parts associated with the system and sample handling are made with Hastelloy C,Teflon®, and Kalrez® (Cheraz®)
Continuous flow and pressure output to indicate proper operation • Unaffected by sample temperature variation
Modular design for easy swap-out of measurement sensors and components
Utilizes proven measurement technologies with an established history of service in HF applications
Internal data logging and historizing of KPIs to enable quick and easy diagnostics
No wear elements requiring preventative maintenance
Download Datasheet ACA.HF_System_Datasheet.pdf

If you require further information on this product or would like a quotation, please contact dp-flow on: