Electrochemical Sensors and Accessories for pH and ORP Measurement
PH12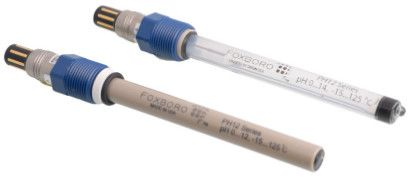 The PH12 Series Sensors are precision electrochemical sensors that are used with a popular set of mounting accessories to measure pH and ORP. These sensors provide a unique electrode technology in the widely used 12 mm form factor, and provide fast response, long life, and high accuracy and stability. They are rugged, easy-to-use devices particularly well suited for low and high temperature, sanitary, and biocompatibility installations. The low cost construction renders the sensor disposable, and therefore eliminates costly sensor maintenance.
FEATURES
Proprietary electrode glass formulations.
Double junction reference using Nafion ion barrier.
Fast thermal response; <1 minute for 80% step.
PEEK or Borosilicate Glass sensor bodies.
Variopin connector integral to sensor body.
A selection of electrode types offered:

For pH measurement: Domed glass electrode to 125 or to 140°C (to 257 or to 284°F); or flat ruggedized glass electrode to 125°C (to 257°F).
For ORP measurement: Platinum electrode to 125°C (to 257°F).
For combination (simultaneous) pH and ORP measurement: glass and platinum electrodes to 125 or to 140°C (to 257 or to 284°F), depending on glass electrode selected.

Sensor length of 120, 225, 360, and 425 mm (4.7, 8.9, 14.2, and 16.7 in) available.
Sanitary sensors comply with 3-A Standard 74; also meet FDA food processing industry requirements.
Sensors meet the biocompatibility requirements of EN ISO 10993-5 and USP 87.
ATC with integral 100 or 1000 Ω platinum RTD.
Steam sterilizable and autoclavable. Optional autoclave cap available to protect the variopin connections during the cleansing process.
Integral solution ground.
Standard Viton process seals; EPDM and Perfluoroelastomer are optional.
Integral PG 13.5 connection directly threads into a flanged or NPT process connection accessory.
Retraction/Insertion and Ball Valve Insertion assemblies offered to allow insertion and replacement of sensor without shutting down the process.
316L ss, CPVC, or Kynar protective sensor holder assembly with or without electrode guard.
Mounting accessories include threaded and Tri- Clamp type sanitary process connections, and NPT, NPT pipe adapter, and flanged process connections. Retraction/Insertion and Ball Valve Insertion assemblies are also offered.
Cable strain relief housing accessory optional with Sensor Holder assembly; and provided as standard with the Retraction/Insertion assembly.
Other accessories include junction boxes, patch cords, extension cables, raw cable, and flow chambers.
SELECTION OF THREE pH ELECTRODE TYPES FOR APPLICATION VERSATILITY
Invensys has a long history of pH electrode research and development. Proprietary glass formulations are implemented, manufactured, and tested in its electrochemical sensor production facility. For the PH12 sensor family, three electrode choices are offered that provide the best solution for the user's unique application requirements. The pH electrodes offered are a flat membrane glass electrode, and a choice of two domed glass electrodes depending on the temperature limits required. See paragraphs below, and also the pH Electrode Selection Guide in Table 1 for a summary of electrode characteristics in varying application conditions.
Best Performing Flat Membrane Electrode
Most flat membrane pH electrodes are not suitable for high temperature service. Though rugged and useful
for abrasive applications, their application range has generally been limited to 80 to 85°C (176 to 185°F) due to the composition of glass employed. At Invensys, extensive research and testing have resulted in a glass formulation capable of being formed into a ruggedized, flat membrane while maintaining excellent performance up to 125°C (257°F). When used with the PEEK body sensor, the flat, ruggedized glass electrode provides a sensor with unprecedented durability in the harshest of applications.
High Temperature Domed Glass Electrode for 140°C (284°F) Service
An enhanced domed glass formulation has been developed for high temperature service. This new formulation is the highest temperature electrode offered by Invensys. It is recommended for very high temperature and/or temperature cycling applications. It is also an excellent choice for applications with high pH and high sodium content. With an upper temperature rating of 140°C (284°F), this electrode is the best choice for steam sterilizable applications.
Domed Glass Electrode with Very Wide Temperature Performance
Invensys uses a proprietary glass formulation which capitalizes on a very low impedance characteristic.
By starting with an electrode with low impedance, the electrode performs exceptionally well at very low temperatures. This particular glass formulation also performs well at high temperatures, up to 125°C
(257°F). With a specified temperature range of -25 to +125°C (-13 to +257°F), this electrode provides one of the widest usable ranges of any pH electrode on the market.
pH, ORP, OR COMBINATION pH AND ORP MEASUREMENTS
A selection of electrode types is offered, as follows:
pH Measurement, Flat Ruggedized Glass Electrode, 0 to 12 pH; -15 to +125°C (5 to 257°F).
pH Measurement, Domed Glass Electrode, 0 to 14 pH; -25 to +125°C (-13 to +257°F) wide temperature range; or 0 to 140°C (32 to 284°F) high temperature rating.
ORP Measurement, Platinum Electrode, -25 to +125°C (-13 to 257°F).
pH and ORP Combination (and simultaneous) Measurement: 0 to 12 pH and ORP, or 0 to 14 pH and ORP; -15 to +125°C (5 to 257°F), -25 to +125°C (-13 to +257°F), or 0 to 140°C (32 to 284°F), depending on glass electrode selected.
If you require further information on this product or would like a quotation, please contact dp-flow on: