DolpHin Series High Performance pH and ORP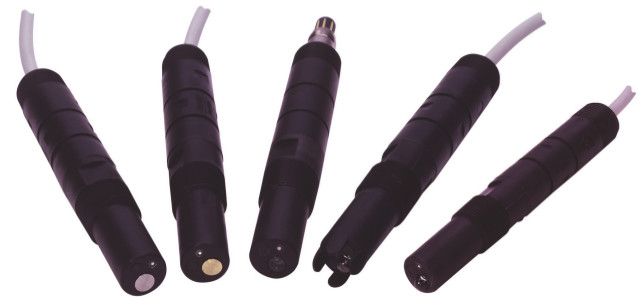 The Foxboro® brand DolpHin® Series is a family of precision electrochemical sensors that are used in conjunction with a widely accepted set of mounting accessories to measure pH and ORP. They are rugged, easy-to-use devices that are particularly well suited for use in high temperature installations.
INTRODUCTION
The DolpHin Series is a family of high performance pH and ORP sensors with extensive features and accessories. Breakthrough performance in stability, accuracy, and long life makes DolpHin the premier pH and ORP sensor for on-line process applications. Extensive and successful field installations have proven DolpHin's superior performance. It outlasts other sensors in high temperature and temperature cycling applications up to 121°C (250°F). It remains fast and accurate, while conventional pH sensors lose sensitivity and are slow to respond to pH changes. Invensys engineers have developed a unique proprietary electrode glass formulation which makes DolpHin exceptionally stable, accurate, and long lasting, even in the harshest process applications. Each component in the DolpHin sensor has been designed to maximize ease-of-use, long life, and accuracy, including:
Precision reference junction
High-temperature electrolyte
Reference electrode with Nafion ion barrier
Ultra-fast automatic temperature compensation
Single, rugged body that fits the widest variety of mounting accessories
The elegant DolpHin design delivers an easy-to-use sensor with unmatched pH and ORP measurement performance.
FEATURE HIGHLIGHTS
Unique pH glass - exceptionally stable, remains fast and accurate after severe temperature cycling (121°C/250°F)
Proven high stability, high accuracy, and long life
Easy-to-use body design simplifies installation, calibration, maintenance, and replacement
More reliable measurements permit tighter process control
Longer life plus easy mounting reduces maintenance costs
GENERAL DESCRIPTION
The DolpHin Series consists of Model PH10 for pH measurements and Model ORP10 for ORP measurements. These Models share many of the same characteristics, such as body type, internal reference electrode, temperature elements, cables, options, and accessories.
The difference between the two Models is in the measuring electrode. Model PH10 offers four pH electrode choices, and Model ORP10 offers two ORP electrode choices. Each of these electrode types is discussed in the "MODEL CODE SELECTION GUIDE".
The commonality of body type allows users to standardize on DolpHin pH and ORP sensors while enjoying the flexibility to install them in any way appropriate for the application. Every DolpHin sensor fits with any of the ball valve insertion assemblies, bushings, tees, and other accessories shown in this document.
DolpHin sensors are easy to use; specifically, easy to install, replace, calibrate, and maintain. The "disposable" design means low cost of maintenance, and elimination of internal spare parts inventories. The sensor is mechanically rugged, chemically and thermally resistant, and can withstand extended exposure to high temperature applications, thereby making it ideally suited for the harshest industrial applications.
TRANSMITTER/ANALYZER COMPATIBILITY
DolpHin sensors are fully compatible with Foxboro Models 870ITPH and 876PH Intelligent Transmitters and Model 875PH Intelligent Analyzers.
When used with the Foxboro Intelligent devices, DolpHin supports sensor diagnostics, including:
Broken glass electrode
Coating of sensing surface
Aging (slope degradation)
Liquid leakage into sensor body
Preamp failure
ATC, temperature element failure.
The coating and aging diagnostics are useful in scheduling preventive maintenance. And all the diagnostics are useful in ensuring a reliable pH or ORP measurement.
DolpHin sensors are also compatible with older Models 873PH and 873DPX analyzers, although with a restriction on temperature elements (see "MODEL CODE SELECTION GUIDE"). Analyzer Model 873APH is compatible with DolpHin Model PH10 with glass electrodes and 100 Ω temperature elements only, and Model 870PH is compatible with preamplifier and 100 Ω RTDs only.
SENSOR BODY
The sensor is offered in a PVDF(1) body material. PVDF is an ideal material because of its excellent pressure, temperature, and mechanical properties. It is virtually immune to attack from most chemical solutions.
The sensor body has a single, sealed probe design, with no replaceable parts, making it a low maintenance sensor.
The glass electrode pH models contain no process wetted metal.
The body has two integral 3/4 NPT mounting threads; one at the cable end for submersion or ball valve insertion mounting, the other near the sensing end for in-line mounting.
If you require further information on this product or would like a quotation, please contact dp-flow on: