Intelligent Transmitter for pH, ORP, and ISE Measurement with HART Communication Protocol Model
876PH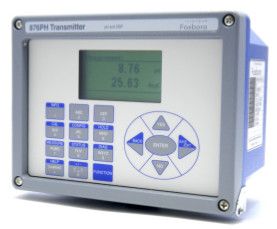 The Foxboro® brand Model 876PH is a 2-wire loop powered intelligent transmitter that, when used with appropriate electrochemical sensors, provides measurement, local display, and transmission of pH, ORP (Oxidation-Reduction Potential), or ISE (Ion Selective Electrode) concentration. The transmitter outputs a HART digital signal and a 4 to 20 mA analog output.
FEATURES
Either single sensor input (pH, ORP, or ISE), or dual sensor input (simultaneous pH and ORP).
4 to 20 mA output with a HART(1) digital signal.
Remote configuration/calibration with the HART hand-held communicator or PC-based configurator.
Local configuration with the keypad on the integral local human interface.
LCD indicator can display either one, two, or three measurement variables.
Fault isolation to transmitter or sensor.
High impedance inputs for glass and reference electrodes.
Galvanically isolated output.
Approved/Certified as intrinsically safe device for use in hazardous area locations.
FDT certified DTM (Device Type Manager).
Continuous transmitter/sensor diagnostics.
Temperature compensation/calibration curves.
Two levels of passcode protection provided; configurable.
Compatible with all Foxboro pH, ORP, and ISE sensors, and many non-Foxboro sensors.
Complies with applicable NAMUR standards, and European EMC Directive 2004/108/EC.
Enclosure meets IP66 and NEMA 4X ratings.
APPLICATION FLEXIBILITY
Microprocessor technology, coupled with a simple user interface, allows rapid customization of the transmitter to specific application requirements. ORP or ISE applications can be handled by simply reconfiguring the basic pH transmitter to the desired measurement. Temperature compensation is equally as flexible, as the transmitter offers the standard Nernst compensation for glass pH electrodes, as well as optional solution compensation for ammonia and user-defined transforms.
SIMULTANEOUS pH AND ORP MEASUREMENT
This Foxboro pH transmitter is capable of measuring pH and ORP simultaneously in one of two ways. First, the user may connect separate pH and ORP electrodes to the sensor terminal strip and share the reference electrode from the pH sensor. Alternatively, the user may connect a single combination pH/ORP sensor to the sensor terminal strip. When measuring pH and ORP simultaneously, the transmitter outputs both measurements digitally via the HART protocol. Both measurements may be viewed on the LCD display. For users who need to measure both pH and ORP in the same process solution, this feature greatly reduces cost and space requirements as one transmitter is really doing the job of two.
INTRINSICALLY SAFE DESIGN
The 876PH Transmitter complies with FM, CSA, ATEX, and IECEx standards for intrinsically safe and nonincendive apparatus in hazardous area locations. Refer to the Electrical Safety Specifications section.
INTELLIGENT CALIBRATIONS
Calibration routines are designed for simplicity and elimination of errors. All procedures are selfprompting. Two calibration routines are available. A "manual" calibration is for users who prefer to edit and enter the pH values of their buffer solutions, and an "automatic" calibration that provides a bufferrecognition mechanism which locks in on the buffer value most closely representing the combination of millivolts and temperature values being reported from the sensor. User-programmable stability parameters prevent the transmitter from accepting calibration data until both the pH and temperature signals from the probe have stabilized. Tables of industry standard buffer values are preprogrammed in the transmitter. For flexibility, a custom buffer table may be userprogrammed for unusual application requirements.
SENSOR AND TRANSMITTER DIAGNOSTICS
These functions include View Faults, Check Sensor, Presume Faults, and View History; and include:
Measurement, Compensation, and Analog Output Overrange and Underrange
Coated Reference Electrode
Aging Glass and Broken Glass Electrode
Calibration Required ? Liquid Leakage into Sensor Body
Failed Preamplifier ? ATC Short and ATC Open
The user can enable or disable any of the listed faults. Fault status is displayed in the main Diagnostic Menu. If there are no faults, then "No Active Faults" will be displayed. The user can suspend faults from the measurement status for one hour, and can resume faults at any time.
If you require further information on this product or would like a quotation, please contact dp-flow on: