Intelligent Transmitter for Contacting Conductivity and Resistivity
876CR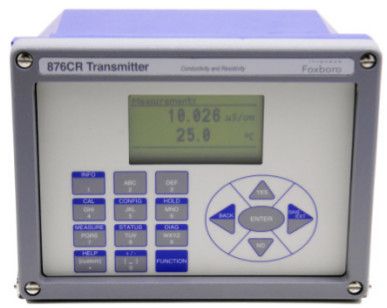 The Foxboro® brand Model 876CR is a 2-wire loop powered intelligent transmitter that, when used with an appropriate electrochemical sensor, provides measurement, local display, and transmission of contacting conductivity, resistivity, or concentration. The transmitter outputs a HART digital signal and a 4 to 20 mA analog output.
FEATURES
4 to 20 mA output with a HART(1) digital signal.
Temperature prediction(2)
Remote configuration/calibration with the HART Communicator or PC-based Configurator.
Local configuration with the keypad on the integral local human interface.
LCD indicator can display either one, two, or three measurement variables.
Fault isolation to transmitter or sensor.
Galvanically isolated output.
Continuous transmitter/sensor diagnostics.
Pre-programmed temperature curves including temperature compensation for power and pharmaceutical industry applications.
Approved/Certified as intrinsically safe device for use in hazardous area locations.
FDT certified DTM (Device Type Manager).
Auto-switching from a wide range to a very sensitive range without need for recalibration.
Two levels of configurable passcode protection provided. Compatible with all Foxboro 871CC and 871CR conductivity and resistivity sensors.
Complies with applicable NAMUR standards, and EMC directive 2004/108/EC.
Enclosure meets IP66 and NEMA 4X ratings.
Output hold.with HART Communication Protocol
APPLICATION FLEXIBILITY
Microprocessor technology, coupled with a simple user interface, allows rapid customization of the transmitter to specific application requirements. Contacting conductivity or resistivity applications can be handled by simple configuration of the transmitter to the desired measurement. Temperature compensation, for conductivity and resistivity measurement is equally flexible.
CONDUCTIVITY, RESISTIVITY, OR CONCENTRATION MEASUREMENT
The transmitter can be configured to measure in conductivity units (μS/m, μS/cm, mS/m, mS/cm, or S/m), resistivity units (MOhm•cm or KOhm•cm), or one of a host of chemical concentration units such as percent (%), grams per liter (g/L), parts per million (ppm), parts per thousand (ppt), and ounces per gallon (oz/gal). User programmable curves can also be used for special applications such as uncommon chemicals, proprietary processes, or non-binary solutions.
CUSTOMIZE AND EMPLOY UP TO THREE APPLICATIONS
This unique feature allows you to preconfigure the transmitter for up to three different applications. Each application may have its own display format, temperature compensation curve, chemical concentration curve (if applicable), and output configuration. Each application is assigned a number, for example, "Application 1", "Application 2", or "Application 3". If you wish to switch from one application to another, you can simply change one parameter in the configuration menu and the entire application set switches in automatically. This is a powerful feature for users who frequently change between a handful of common, or even custom, recipes.
AUTO-SWITCHING
A useful extension to the multi-application feature is an auto-switching capability between either two or three applications. User-programmable switch limits determine when the transmitter auto-switches from Application 1 to Application 2, then again from Application 2 to Application 3. Similarly, the transmitter auto-switches in descending fashion depending on the program set by the user. Because each of the applications (three maximum) is individually configured, calibration constants are stored in memory and invoked as the application is retrieved. Thus the transmitter can switch from a wide range conductivity application to a very sensitive one (e.g., Rinse, Product, and CIP) without the need to recalibrate the system for the new range and compensations. This results in tremendous time savings for operators, and eliminates common sources of error in critical applications.
CONFIGURATION OF PARAMETERS
User configurable parameters are listed below. Refer to MI 611-260 for the menu structure and further details of each parameter.
Cell Configuration (Cell Constant, Temperature Sensor Type)
Measurement Configuration (Units, Display Format, and Damping)
Temperature Configuration (°C, °F, Automatic, or Manual mode)
Temperature Compensation (Units for Different Solutions)
Analog Output/PV (Source Measurement, Low/Upper Value, HART SV/TV/QV)
Measurement Display (Single, Dual, Multiple (3) Measurements)
Number of Applications (1, 2, or 3)
Run Applications (Auto, Application 1, 2, or 3)
Analog Output Failsafe (Off, Fail Low, Fail High)
HART Digital (Versions 5, 6, or 7)
Enable/Disable Diagnostics (Enable/Disable All, ATC Short/Open, Compensation/Measurement Range, Leakage)
Auto Hold (Off, On Present, On Manual)
Configuration Timeout (Never, Always, Online only)
Restore Configuration (User1, User2, Factory)
Stability (Stability during calibration)
Passcode Access (Administrator Code, User Code, User Change, User View)
Transmitter Tags (Device Name, Tag Name, Location, HART Message/Tag/ Long Tag/Descriptor)
TEMPERATURE PREDICTION
For a Foxboro cell type, a proprietary mathematical algorithm is applied to accelerate the cell's response to changes in the process temperature. This reduces errors that may appear in the compensated measurements when the process temperature changes rapidly.
If you require further information on this product or would like a quotation, please contact dp-flow on: