Contacting Conductivity and Resistivity Sensors and Accessories
871CR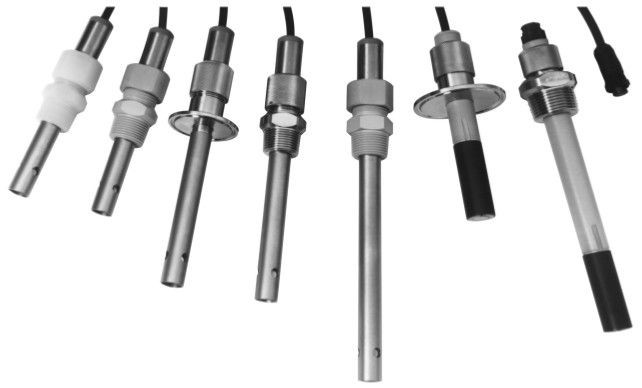 The 871CR Series Sensors measure the conductivity or resistivity of a solution. These sensors, together with an 870ITCR Intelligent Electrochemical Transmitter or an 875CR Intelligent Electrochemical Analyzer, are used in
a broad range of applications including critical ultrapure water resistivity measurements found in the semiconductor industry, and conductivity measurements used in power and pharmaceutical water measurements.
APPLICATION FLEXIBILITY
Two cell factors, 0.1 cm-1 and 10 cm-1, are available for ionic measurements. The cell factor used is dictated by the measurement range desired. The sensors are constructed of different materials, standard and extended
insertion lengths, and many mounting options. The sliding bore piece design provides easy installation and reduces replacement costs since normally the mounting hardware is permanently installed in the process system.
NUMEROUS MATERIAL SELECTIONS
The 0.1 cm-1 cell factor sensors are concentric cylinders constructed with titanium or Monel electrodes. Titanium is highly corrosion resistant and is compatible with most fluids except acidic fluorides. For applications involving
acidic fluorides, Monel electrodes are recommended. The 10 cm-1 cell factor sensors use graphite electrodes. A choice of insulator and process connection materials permits chemical compatibility and ensures measurement integrity at elevated temperatures and pressures.
QUALITY AND UNIFORMITY
871CR sensors are manufactured under strict guidelines of quality and uniformity. All 0.1 cm-1 sensors are built and tested to be within 1% of their nominal cell factor. Actual cell factors are stamped on the sensor housing or cable. A choice of cell factor determination and certification is available. Ultrapure water resistivity applications benefit from the -R option, ultrapure water cell factor determination. Conductivity measurements and applications requiring
USP23/24 compliance can specify the -S option, NIST traceable conductivity calibration and calibration certificate. Simply enter the geometrical cell factor and temperature cell factor into a calibrated 870ITCR Transmitter or
875CR Analyzer, and you have a fully calibrated measurement system.
If you require further information on this product or would like a quotation, please contact dp-flow on: