Intelligent Differential Pressure Transmitter
IDP31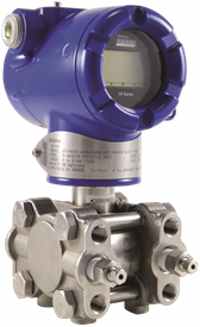 The I/A Series System differential pressure transmitter IDP31 is a microprocessor-based smart transmitters that provide precise, reliable, measurement of differential pressure, and features high performance and excellent stability. Capable of measuring gas, liquid, vapor, and liquid levels, it transmits 4 to 20mA dc analog and digital signals according to the measured differential pressure. It can also execute two-way communications using HART protocol, thus facilitating self-diagnosis, range resetting, and automatic zero adjustment
HIGH DEPENDABILITY
Unique characterization and composite semi- conductor sensors realize high accuracy up to 0.04% F.S.
Proven Sensor technology enables Long-term stability up to 0.1% of URL per 10-year period.
A wide measuring range is available from a single model. This feature is highly effective in taking measurement over a wide range and reducing the need for inventory.
Model IDP31D and IDP32D: 0.5 to 100kPa (rangeability: 200 to 1).
Two-way communication using HART protocol facilitates self-diagnosis, range resetting, automatic zero adjustment, and other operations.
HART communication protocol.
Complies with 89/336/EEC, 92/31/EEC, and 93/68/EEC Electromagnetic Compatibility (EMC) Directive.
Complies with FM Explosionproof and Dust Approvals, FM Intrinsically Safe Approval, and FM Nonincendive Approval.
Complies with ATEX Flameproof and Dust, ATEX Intrinsic safety and Dust, and ATEX Type n and Dust Certifications.
OIL FREE FINISH
The transmitter is shipped with oil-free wetted parts.
ADAPTERS FOR ANTICORROSION MATERIALS
These are adaptor flanges to connect 82 mm pipes made of anticorrosion materials [excluding ASTM B575 (Equivalent to Hastelloy C-276)] to 54 mm general-purpose pipes.
EXTERNAL ZERO/SPAN ADJUSTMENT FUNCTION
The transmitter can be easily zero/span adjusted in the field.
CONFORMANCE TO NON SI UNITS
We deliver transmitters set to any Non SI units as specified.
SAFETY TRANSMITTER
Select this option to be used as a component of Safety Instrument System (SIS). ECS Series Component Transmitters comply with IEC61508, certified according to Safety Integrity Level2 (SIL-2) when this option is selected.
ALARM OUTPUT (CONTACT OUTPUT)
Contact output is prepared as alarm output when alarm (Output Alarm/Sensor Temp. Alarm) condition is detected. It can be set to Normally Open. (When alarm is detected, Contact ON).
EMC CONFORMITY
89/336/EEC, 92/31/EEC, 93/68/EEC Electromagnetic Compatibility (EMC) Directive.
PED CONFORMITY (97/23EC)
The maximum pressures applicable under the Sound Engineering Practice (SEP) section of the Pressure Equipment Directive depend on the type of fluids measured, as shown in Table 1. Devices in the ECS Series Component Differential Pressure Transmitters shall be used at or below the applicable pressure in the table or the device's maximum working pressure, whichever is lower. Any ECS Series Component Pressure Transmitter model having a maximum working pressure that is higher than the pressure corresponding to its group does not conform to SEP and cannot be used. To know more about maximum pressures that are applicable for gases and liquids, contact us.
SUPPLY VOLTAGE AND LOAD RESISTANCE
17.9 to 42 V dc. A load resistance of 250  or more is necessary between loops.
OUTPUT
Analog output (4 to 20 mA dc) with HART protocol
OUTPUT SIGNAL
3.6 to 21.6 mA
3.8 to 20.5 mA (NAMUR NE43 compliant)
FAILURE ALARM
Upper: 21.6 mA or more
Lower: 3.6 mA or less
BOLTS AND NUTS MATERIALS (FOR FASTENING METER BODY COVER)
304 SST, 630 SST (IDP31D and IDP32D)
AMBIENT TEMPERATURE LIMITS
To know more about normal operating range, operating limits, and transportation and storage conditions, contact us. To know more about temperature ranges for wetted parts, contact us.
AMBIENT HUMIDITY LIMITS
5 to 100% RH
STABILITY AGAINST SUPPLY VOLTAGE CHANGE
± 0.005% FS/V
RESPONSE TIME
Below 100 msec (for model IDP31D, when damping time is set to 0 sec).
Below 300 msec (for models IDP15D and IDP32D).
DAMPING TIME
0 to 128 sec
ZERO STABILITY
± 0.1% of URL per 10-year (for models IDP31D/32D)
± 1.0% of URL per 10-year (for model IDP15D)
LIGHTNING PROTECTION
Applicable Standards; IEC 61000-4-5
Peak value of current surge (80/20 µsecond): 6000A
INDICATOR
The digital LCD indicator (optional) indicates engineering units and can be set freely between -99999 and 99999. For meter calibration, specify the following items:
Meter calibration range
Meter calibration unit
Linear / Square-root for meter indication
Various kinds of data can be set using the HART® communicator.
Absolute pressure range
IAP10, IAP10S, IAP20,
Differential pressure range
IDP10, IDP15, IDP25, IDP31, IDP32, IDP50
Gauge pressure range
IGP10, IGP10S, IGP20, IGP25, IGP50, IGP60
Multi variable transmitter range
IMV25, IMV30, IMV31
If you require further information on this product or would like a quotation, please contact dp-flow on: